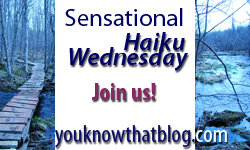 Silly Haiku Wednesday
is hosted by
Jenn
at
You know… that Blog?
.
The basics:

Haiku

is simple! It is 3 non-rhyming lines of 5, 7, and 5 syllables respectively (a great way to use your fingers!)
This week's theme is:

THE ROAD




Today I feel like




I need to find the rest stop


Want to leave the road.