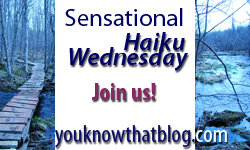 The basics:


Haiku

is simple! It is 3 non-rhyming lines of 5, 7, and 5 syllables respectively (a great way to use your fingers!). You can get further information by clicking

HERE

.
This week's theme is:

METAMORPHOSIS
Soft colorful hanks
pick a pattern, wind them, knit
I love hand knit stuff!
and a bonus, just because.
Freshman bravado.
Senior now, off to college,
Freshman once again.